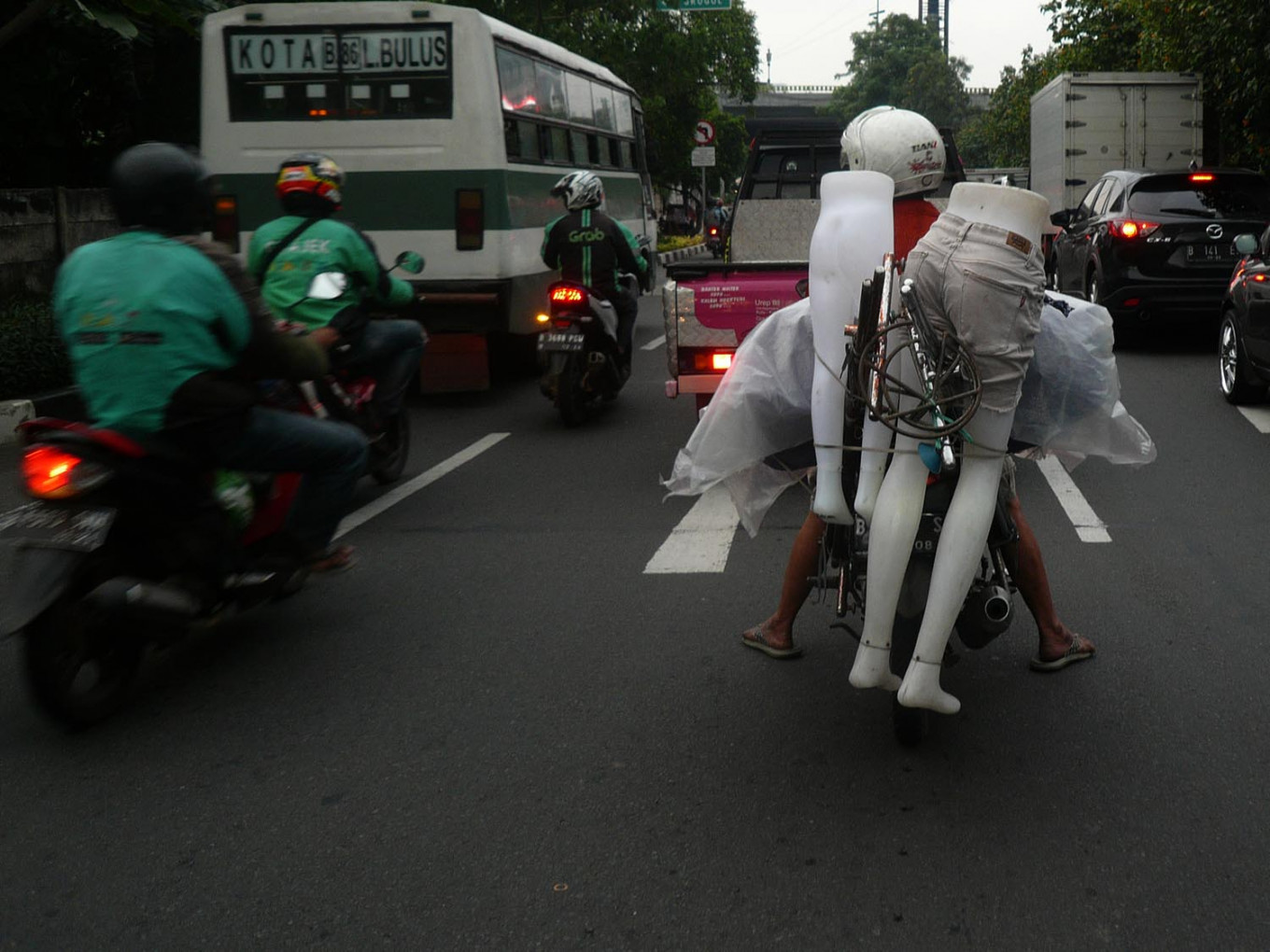 As countries around the world gradually relax their pandemic curbs, Indonesia appears intent on easing its large-scale social restrictions (PSBB) amid claims of slowing COVID-19 transmission.
However, experts warn that the fight is far from over.
No sooner than a month since the introduction of the PSBB policy, which is in force in four provinces and 12 cities or regencies nationwide, the government announced this week that it would grant exemptions to its travel restrictions.
The prevailing restrictions were stipulated in Transportation Ministerial Regulation No. 25/2020, which was originally issued to ban the Idul Fitri exodus as part of the national virus containment strategy.
The national COVID-19 task force on Wednesday issued a circular letter exempting state officials, private sector workers and state-owned enterprise (SOE) employees from the ban, particularly those who provide health services, basic necessities, security and defense and vital economic functions.
Repatriated Indonesian nationals, individuals in need of emergency medical care and family members of deceased individuals are also allowed to travel, with exemptions beginning Thursday.
The ministerial regulation initially banned all inbound and outbound travel from COVID-19 red zones, areas under PSBB and agglomeration areas such as Greater Jakarta and Greater Bandung in West Java, from April 24 to May 31.
It has come with several exceptions, such as the transportation of basic needs, medical supplies and equipment, and also allows for the operation of fire trucks, ambulance and hearses, as well as other operation vehicles for certain government missions.
However, exemptions for businesspeople or others with "essential urgencies" like deaths are not stipulated in the regulation.
Task force chief Doni Monardo said the government decided to grant exemptions to ensure the smooth transportation of medical kits and viral specimens, as well as the mobility of medical personnel and those from other sectors, among other reasons.
"For instance, a military officer's wife isn't allowed to follow [her husband] to his assigned post. But surely her presence is important during military handover ceremonies," Doni said on Wednesday.
However, the government had insisted that the exodus (mudik) ban remains in place and that exemptions shouldn't be seen as an attempt to ease restrictions.
The new exemptions came shortly after senior security minister Mahfud MD revealed over the weekend that the government was mulling over the possibility of relaxing the PSBB policy.
It would do so by allowing food stalls to operate and people to shop and go to work, among other things, while continuing to maintain existing health protocols, Kompas.id reported.
The coordinating legal, political and security affairs minister said that relaxing curbs in some manner had become "necessary" to allow the economy to continue running smoothly.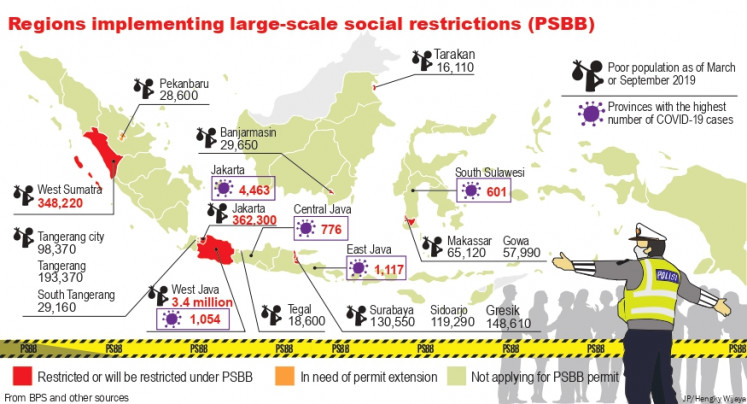 Regions implementing large-scale social restrictions (PSBB) (JP/Hengky Wijaya)
President Joko "Jokowi" Widodo also instructed Wednesday that the country must slow the rate of viral transmission "by all means necessary" so that it falls to mild levels come July.
Confidence is high among officials that the country will be able to enter its "new normal" by July or August, after Doni on Monday claimed that the rate of transmission had slowed to around 11 percent.
However, just one day later, Indonesia reported its highest daily increase in confirmed infections of 484 new cases.
As of Thursday, the government has officially recorded 12,776 infections, 2,381 recoveries and 930 deaths.https://datawrapper.dwcdn.net/GuQWI/7/
Experts believe the delayed results of polymerase chain reaction (PCR) tests and the nation's low testing capacity have made it difficult to capture the true scale of the epidemic, although most agree that restrictions had helped curb infections. As of Thursday, Indonesia had tested 96,717 people, a considerably lower rate than its neighbors at 358 tests per 1 million people.
An epidemiologist at the University of Indonesia, Pandu Riono, said that while the task force's travel exemption was necessary, it was prone to abuse given that those working in the private sector can still travel if they obtain an assignment letter from their board of directors or corporate heads, among other requirements.
Pandu urged the government to issue a more detailed regulation that covers the blatant loopholes in the circular, including by imposing sanctions on those who violate the provisions.
With the recent discovery of new transmission clusters, half-hearted PSSB implementation and the fact that some regions have yet to reach their supposed peak infection rate, Pandu warned it was still too early to ease restrictions.
The province of East Java, for instance, recently discovered new clusters at a factory owned by tobacco giant HM Sampoerna in Surabaya, even though the Greater Surabaya area was placed under PSBB status from April 28.
The provincial administration reported that referral hospitals were experiencing overcapacity, forcing patients into non-isolation wards or non-referral hospitals. As of Thursday, the region had recorded 1,267 cases, 206 recoveries and 133 deaths.
Only with timely, accurate data on transmissions could officials then evaluate the PSBB policy and plan to loosen restrictions gradually rather than all at once, Pandu argued.
"We have to wait until PDP [patients under surveillance] numbers decline, no new clusters are found and the number of new cases falls or even reaches zero.
"Easing restrictions must come in stages, and even then, the healthcare system and testing capacity must be adequate. If that is achieved, restrictions can be imposed on a more local scale – in clusters – so contact-tracing must be rock-solid for the virus not to spread. The problem is that it has spread widely," he said.
Separately, Ilham Akhsanu Ridlo, a health policy lecturer at Airlangga University in Surabaya, East Java, said on the one hand that many regions were still struggling to impose the large-scale restrictions in full, and that any plans to relax the curbs must take into account further epidemiological studies.
Considering the lack of capacity in healthcare services, helped along by its low ratio of patients to doctors, beds and ventilators, Ilham said that restricting mobility was the only viable way to curb transmission and deaths.
"Overcapacity is inevitable. That's why the battle should focus not on healthcare facilities and curative efforts, but emphasize preventive and promotive efforts," he told the Post.

Sources: https://www.thejakartapost.com/news/2020/05/07/easing-restrictions-not-so-fast-experts-say.html